Ambulances
Get a complete overview of ambulance operations with the comprehensive solution offered by WEBDISPEČINK.
Overview of the current location of vehicles and their chip-identified drivers
Operational deployment of vehicles, reduction of trip times and mileage
Monitoring of sirens and beacons
By connecting beacons and sirens to the GPS unit in the vehicle, you can get an overview of their current and historical use in real traffic.
Usage statistics are available, as well as a display of their use in the map documents.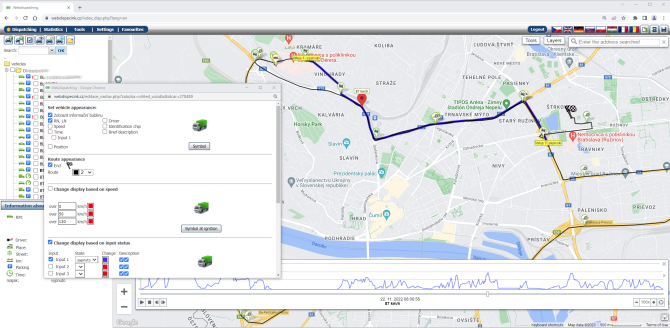 Reduced mileage, consumption and wear and tear on vehicles
The service offers a number of reports for both vehicles and drivers.
Real vehicle consumption reports based on connected buses.
Vehicle over-consumption reports - comparison of consumption by TP and actual liters of fuel filled at gas stations.
Drivers' driving style assessment based on the gyroscopic sensor in the unit.
The connected vehicle buses can be used to obtain vehicle status information from the on-board diagnostic system. This can prevent more serious vehicle breakdowns and wear and tear.
The WEBDISPEČINK app can also alert you to upcoming service and vehicle inspections.
By deploying WEBDISPEČINK on ambulances, you get a perfect daily overview of the real-life operation. This will reduce mileage and improve the driving style of drivers. All this leads to cost savings based on lower consumption, mileage and wear and tear on the vehicles.