Forwarding - comprehensive solution for planning and realization of shipments
Forwarding is an agenda of WEBDISPATCH that allows you to create delivery routes (transport), stops on the routes and actions that need to be performed at the stops. The selected route can be displayed on a map, edited by dragging the mouse and then sent to the driver's tablet in WD Fleet 3D app.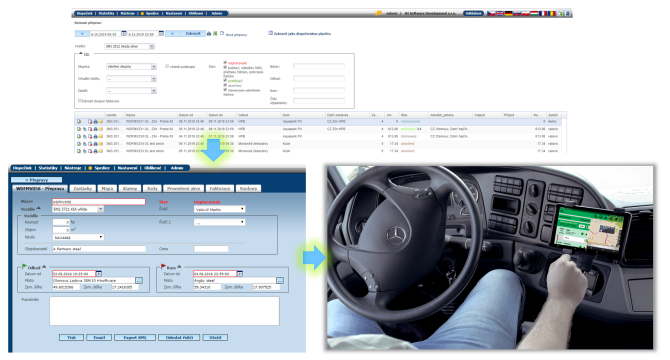 The driver then accepts the transport in WD Fleet 3D app and starts to perform the transport. He also starts creating an online record of vehicle operation - manually or in fully automatic mode, allows himself to navigate the prepared stops by using the Sygic navigation with truck parameters, performs the tasks which the dispatcher plans for him and informs the dispatcher about the status of the transport.
Online synchronization takes place between WebDispatch and the WD Fleet application, not only at the level of transports, driver activities, but also messages, fueling regulations, etc. In WebDispatch, the driver's activities create record of vehicle operation and it is possible to evaluate the progress of the transport - loading and unloading times, or even full and empty driven kilometers, process the taken photos and evaluate the transport.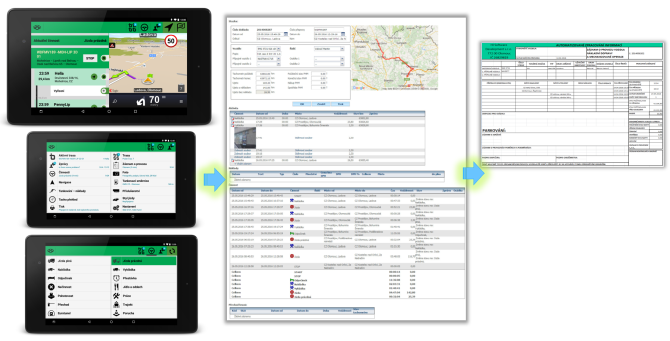 In the forwarding it is also possible to compare the route planned by the dispatcher, the route calculated by Sygic navigation and the actual route driven by the driver.
Forwarding is not part of the basic offer of WEBDISPATCH, but it is a paid package that needs to be activated in the menu Settings - Company - Packages.
For sending shipments, but also for evaluating shipments and processing record of vehicle operation, it is possible to use our API interface to enable two-way communication between the information system, WebDispatch and WD Fleet 3D.